World Architecture Day – Harry Robinson Explores The Residence Project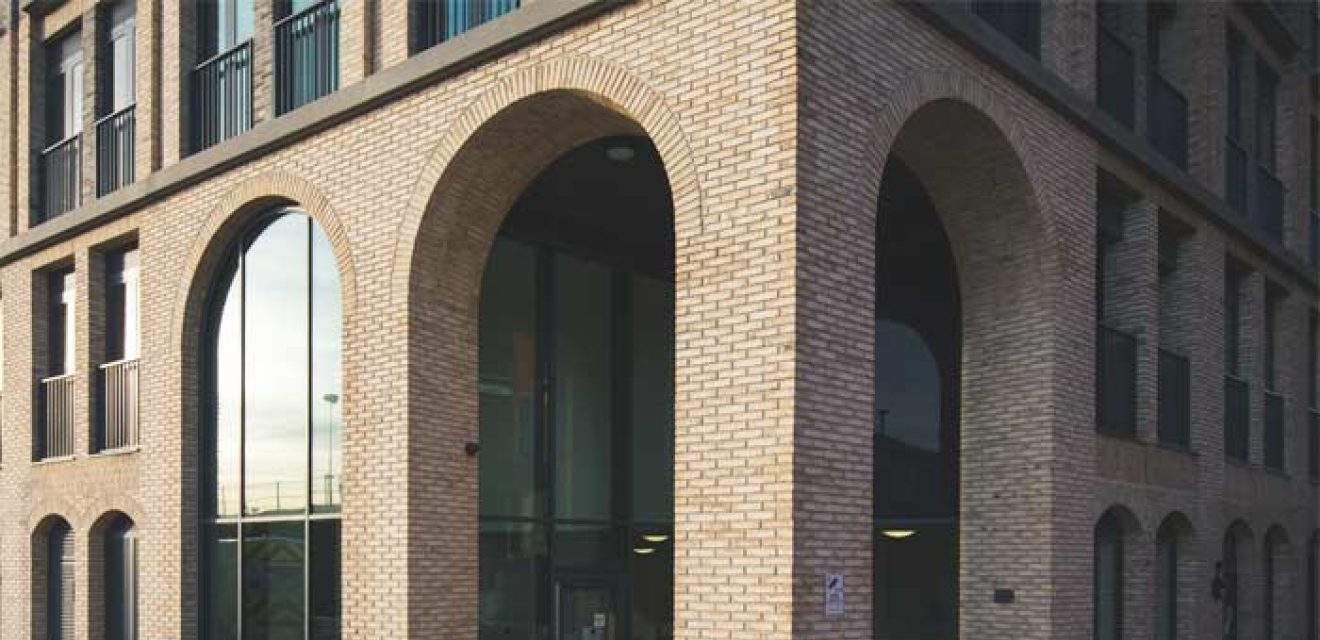 To celebrate World Architecture Day, we asked some of our engineers to describe their favourite architectural project. Harry Robinson explains how a bespoke design was required to form his favourite architectural feature on the Residence project – the impressive double arch at the entrance to the building. The Residence is a luxury residential development situated on London's South Bank. The IG team were tasked with developing almost 140 brick slip arches which helped to achieve the architect's vision creating intricate brick elements while manufacturing these offsite ensured a high level of quality and savied time on site, reducing the need for skilled labour.
What challenges did this project present?
This project incorporated many unprecedented bespoke designs and therefore presented many challenges, one of which being the double brick slip arch lintel. As the two arches were so close together and sat on a narrow pier, there was insufficient bearing zone on this pier to have two separate arches so we had to develop a solution to accommodate these requirements. Another challenge was that some of the full arches had very deep soffits meaning we had to develop a solution using two separate arches to keep the weight down and make it easier to install.
What solutions were developed to overcome these challenges and why did you choose these options?
To overcome the double brick slip arch challenge, we designed the arches as one prefabricated unit, which then just needed to be lifted in to place. Creating this double arch made the production very complex in terms of the steelwork fabrication, it also meant we required small cut infill bricks between the arches and either side, we decided to cut these bricks and bond them to the lintels in our controlled factory environment which allowed more accuracy and helped speed up the build on site. The full arches that were made separately had to be bricked up in tandem to ensure all the bricks aligned. We also tested the arch installations in our factory to ensure they lined up perfectly prior to delivering them to site.
What is your favourite architectural feature on this project?
My favourite feature on this project is where the two full arches with deep soffits meet adjacent to each other on the same corner pier. Both arches were bearing on the same pier internally and met at the same point, which meant the steel of one arch had to be notched around the other, and brickwork from one arch had to run into the brickwork of the other. This is not something anyone would really notice on initial inspection, unless you were part of the great deal of work that was conducted behind the scenes to make this possible. It took a great deal of accuracy from the production team to ensure the steel element fitted together perfectly and the bricks of the two separate arches aligned perfectly when the two came together.
Why did you enjoy working on this project?
I enjoyed working on this project because the challenge of creating something unprecedented was exciting. The building itself was a beautiful design and you could visualise the arches. There was a real sense of achievement when the finished product was installed perfectly as we had intended.
---
Request CPD Presentation
Gain your CPD points by requesting a Continuous Professional Development presentation on IG Masonry Support solutions.
Request CPD